No-Sweat Contact Management With Travel Agency CRM
Nov 22, 2021
In the business world, contacts are the key to your success and expansion across the globe. They have truly become your life savior, especially after the global pandemic. So, when you are running your travel company, you obviously want to provide your customers with the best experience to be their 'go-to' agency. But think about it practically, managing contacts along with myriads of preferences is almost exhausting. How to make it possible? The answer is Travel Agency CRM.
According to BenchmarkONE, 65% of people consider "ease of use" to be the most important requirement for selecting a CRM solution. And did you know that the travel industry is expanding with a total contribution of over 247 billion dollars USD to the GDP which is estimated to double in the future? Considering these facts, Travel Agency CRM is the only solution that can help you manage your contact, build sustainable relationships and generate astounding revenue. A typical address book aka contact managing software is inadequate for today's date.
In this article, let us explore how CRM software helps you manage all your contacts without any hassle. Let's get started!
Travel CRM Flexibility 
This CRM tool can make a whole world of difference with its three kinds of views that come along as default features. You can choose, differentiate and prioritize your contacts with three kinds of module views such as List view, Kanban view, and Canvas view.
The List view displays your contact records under a defined set of criteria. You can have two different kinds of list views like standard list views and custom list views. The standard ones (which can be modified) are ready to be used by all the users in your agency. For custom list viewing you can create and define your criteria based on which the contact records can get filtered.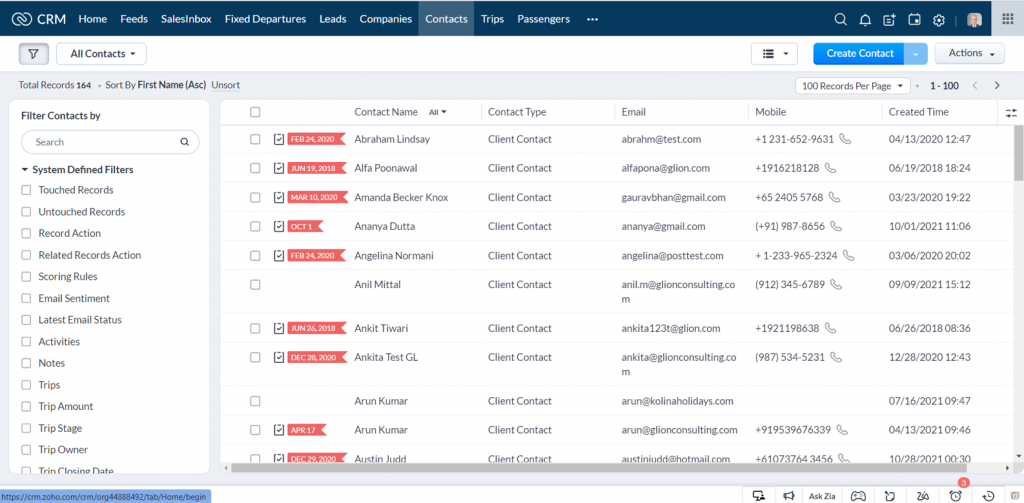 With the Canvas View option, you can personalize the way you want to view your records. You can add pictures of your contacts, highlight an overview-read about them, create or customize from designed templates to make them look livelier. You got the whole freedom to make your device screen look more interactive with your customizations.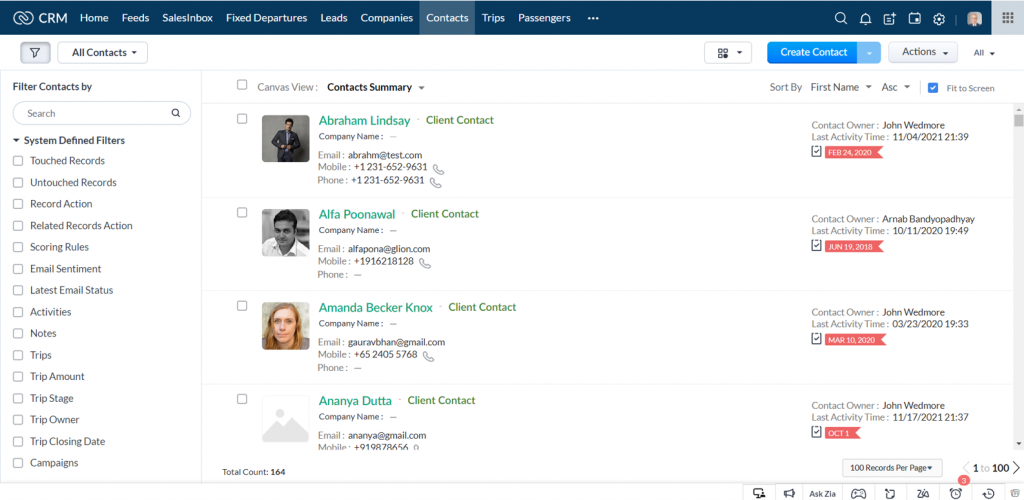 Kanban view is a card-based view that comprehensively displays your contact data in a streamlined manner. You can prioritize your contacts depending on their current status in the sales pipeline. You get a clearer picture as the Kanban view segregates all the data of your contacts.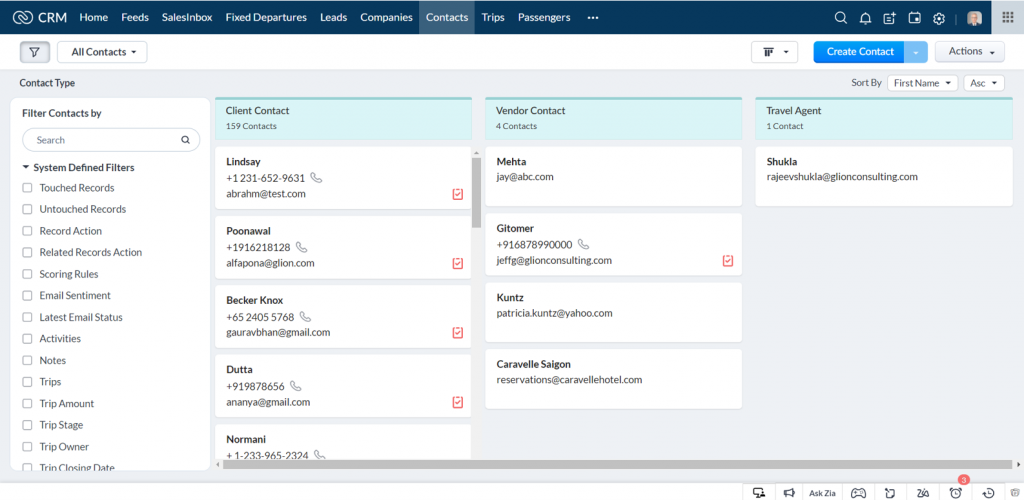 Intrigued to learn more about the other awesome features? Here you go!
Capture Your Contacts With Automated Booking Forms 
Other than the automated workflows which come complimentary with Travel Agency CRM, you also get automated booking forms to capture your contacts' information effortlessly. It is often seen that tour operators place booking forms on their websites. It dramatically improves your sales strategy as it can automatically create contacts, trips, and passengers.
When your potential customers opt for booking a fixed departure trip after browsing through several packages that you're offering and submit their details, your CRM will create a separate contact and auto-populate their information. Your contact will also get tagged against that specific trip that he/ she is choosing so that when you get inside that trip, you can see all the parent fixed departure trips, number of passengers, and so forth.
Manage Your Contacts With Embedded Chat Transcripts 
Zoho SalesIQ somewhat has an omnichannel approach. It is usable, accessible with any device whatsoever which answers your audience's inquiries instantly. You can easily build a live chatbot (or 'Can I help You desk') with canned responses so that it can greet your audience, cater to their inquiries and ask them for further details on your behalf. And voila! The moment the interaction is over, your CRM stores all the chat transcripts for you to evaluate and convert into a contact. You can also embed these transcripts for future reference while pitching to a potential customer. You can easily impress your contacts by suiting their preferences and offering the solution that they've been looking for. Managing contacts and improving customer service all at the same time!
Track Your Contacts' Progress In The Sales Cycle
Generating multiple leads from different mediums is only a step towards success. But converting them into contact and a trip is your immediate goal. Isn't it? This leap between the two steps can be fulfilled only by nurturing your leads. Other than email marketing or social media marketing, you can create various tasks for your teammates to nurture your leads and convert them into contacts and trips. You can also track your contacts' progress in the entire sales journey diligently and assign immediate follow-up tasks whenever you find a halt.
Retrieve Contact Information With Travel CRM
As your Travel CRM documents your customer databases all in a streamlined fashion, you can enable your search for any related information on the profile. You can type out the contact's name, his/her job title, tour package, or any other detail, and instantly all the related options appear before you. You can categorize your contact as primary contact and passenger or only as a passenger. All your contacts' information gets pulled by your CRM software to create passenger profiles accordingly.
It particularly stands apart as an "ease of use" application because you can tag any contact as a passenger for a different trip. You don't even need to create another separate individual account for your existing customers. You can simply pull out a customer's contact record to tag it against another trip. However, you can always edit your passenger if he/she becomes or is removed from the primary contact's role. Works like magic!
Update Your Contact Details 
Instead of you updating your contacts' details and adding to your colossal workload, you can send out the 'Contact Details form to your customers. You can choose multiple contacts, select the 'Run Macro' option and send an email including a contact details form for them to review then prior information and update them if there's any change. Now once they submit their updated details, Travel Agency CRM will instantly document them in the respective fields.
Gain Deeper Insights With Travel Agency CRM
Learning customer insights are extremely important for your effective contact management and business growth evaluation. Travel Agency CRM comes along with plentiful features including two powerful tricks.
Use Campaign Analytics 
For running a travel company successfully, having a customer-centric approach is extremely crucial. Now, as your CRM solution already documents and segments your customers and profiles them into individual profiles with specific preferences, you can send tailored campaigns to engage your contacts. This helps you to interact with your customers via your social media posts and email campaigns. Accordingly, you can get real-time insights to record your customers' behavior patterns, check whether they have opened the email or not, analyze their engagement, review your open and view rates. Yes, providing the best service from your end is expected but a scoop of personalization makes an impressive experience and worthy enough to build strong alliances with your company.
Reports and Dashboards 
Reports and dashboards are the key advantages that come along with Travel Agency CRM. You can get comprehensive reports based on the real-time analytics that your CRM gathers for you. These are standard reports which you can always add and create or customize according to your preference. The multiple colorful dashboards that you get, demonstrate full visibility of your contacts' progress and journey.
Improve Customer Service With Travel Agency CRM
A cloud-based CRM application holds on to every touchpoint interaction you have with your customers. You know that already. But the specialty is, your Travel CRM creates a 360-degree holistic view of your contacts which can be accessed with any device and at any time. This functionality hugely helps your team to prioritize their tasks depending on the urgency of the trips. You can set reminders or pop-ups and even book dates on your calendar so that your tasks never slip off the radar.
Final thoughts,
The travel industry is a particularly competitive landscape. And today's climate is almost uproaring with technological advancement. Having a backup at this time is extremely important. So if you're looking for a long-term plan, Travel Agency CRM is the one-stop solution. Be the 'Number 1' travel agency with this feature-rich, easy-to-use, customizable application that helps you manage your uncountable contacts and deliver the best customer experience in every possible way.
Need help to get a better picture of this idea? Watch this video to know how you can implement the abundant features of Travel Agency CRM.
Click on this link to turn your wishful thinking into a solid reality!